While neutrals, earth tones and soft colors such as browns, beiges, grays and whites are common favorites throughout the country selecting the right shades makes all the difference. When choosing colors make sure to consider the home itself, its surroundings and location.

COMPLEMENT OLDER ELEMENTS WITH NEW COLORS
If you are not undertaking a complete exterior remodel you should consider the colors of your roof, brick, mortar, stone facade or other features that are not changing. You'll want to choose colors that complement these elements for your siding and trim. Otherwise, you may end up with colors that clash rather than harmonize with one another.
CONSIDER THE ARCHITECTURAL STYLE OF YOUR HOME
The architectural style of your home also plays a large role in your color scheme. Neutrals and soft hues often work well for traditional homes such as colonial, Tudor, and Craftsman. Victorian homes, as I'm sure you've seen, can be more adventurous while staying in character. Mediterranean style homes often boast pastels or even some bolder color choices for a stronger statement.

HERE ARE A FEW OF OUR FAVORITE COLOR COMBINATIONS
Lighter Siding with rich, dark accents
Tried and true Beige color siding with gray and brown accents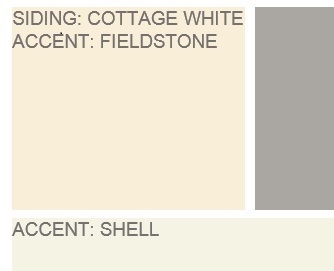 A soft, sunny yellow siding with grey and Shell accents
Color may appear different on monitors. Please visit your local Rollex distributor to see colors in person.